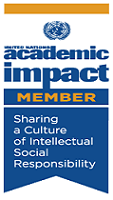 Welcome
The United Nations Academic Impact (UNAI) is a global initiative that aligns institutions of higher education with the United Nations in furthering the realization of the purposes and mandate of the Organization through activities and research in a shared culture of intellectual social responsibility.
 10 principles
The United Nations Academic Impact is informed by a commitment to support and advance ten basic principles:
A commitment to the principles inherent in the United Nations Charter as values that education seeks to promote and help fulfil;
A commitment to human rights, among them freedom of inquiry, opinion, and speech;
A commitment to educational opportunity for all people regardless of gender, race, religion or ethnicity;
A commitment to the opportunity for every interested individual to acquire the skills and knowledge necessary for the pursuit of higher education;
A commitment to building capacity in higher education systems across the world;
A commitment to encouraging global citizenship through education;
A commitment to advancing peace and conflict resolution through education;
A commitment to addressing issues of poverty through education;
A commitment to promoting sustainability through education;
A commitment to promoting inter-cultural dialogue and understanding, and the "unlearning" of intolerance, through education.
Model UN – New Silk Way Program at Al Farabi
Kazakh National University
Model UN – New Silk Way (MUNNSW) Program at Al Farabi Kazakh National University is one of the biggest and most diverse Model UN conferences not only in Kazakhstan but also in the Central Asian region. It was established on the rich tradition of Model UN conferences held at the university for many years.
The MUNNSW has envisioned that the Model UN conferences to be transformed from a simple extra-curricular activity at schools and universities to a conduit for passionate debates and deliberations at the national and regional scale. The energy and vibrancy of the student youth and their enthusiasm to make on Model UN an exciting and inspirational experience for all students who are interested in the international affairs and the work of the UN.
MUNNSW also hopes to enhance the richness of the Model UN experience in Kazakhstan by opening its doors to all students across the country. Along with our unique Model UN conference experience, MUNNSW will bring together all interested parties – the UN representatives, members of the diplomatic community in the country and many others. This combination of engaging activities, lively negotiations and passionate exchanges will help all participants not only to have memorable experience and shape the growing Model UN community in Kazakhstan but also to give a sense of involvement in global affairs to the youth. This makes MUNNSW the perfect member for the new international chapter of global Model UN movement.
In addition, Model UN – New Silk Way is a focal point for organizing a regional conference in Almaty, Kazakhstan between May 01 and 03, 2014. MUNNSW plans to host almost 200 accomplished students from Kazakhstan and central and South Asian region to engage in stimulating debate, hands-on learning, and enjoyable activities in the heart of Asia. MUNNSW will provide a unique opportunity for exciting competition in rigorous debate where all participating students will gain a deeper understanding for the complexities of the work of the UN, global politics and a greater appreciation for the increasingly interconnected nature of the international community.